Casa Cenote / dos ojos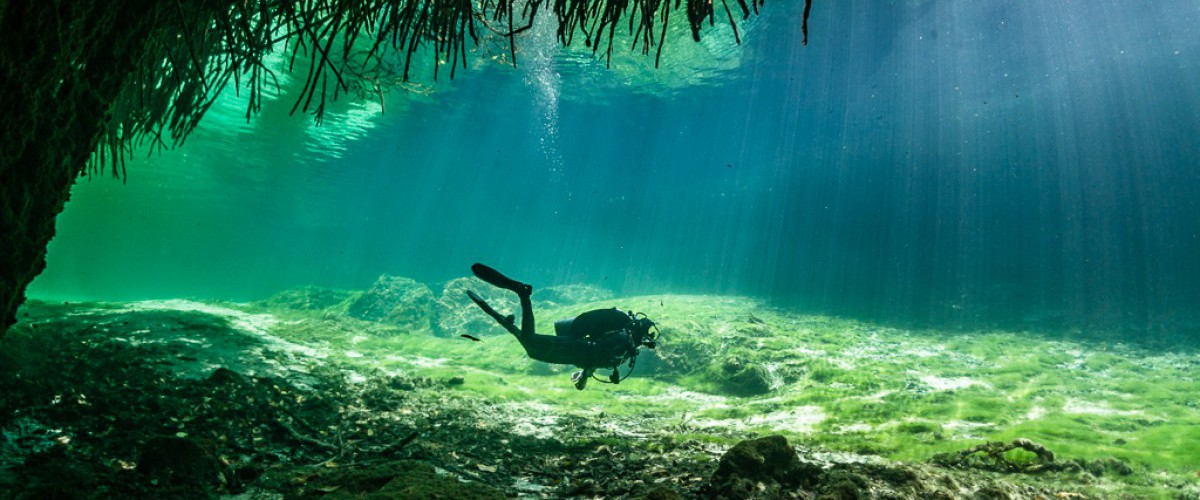 2 dives Casa cenote and Dos ojos
Refresher Class:
+ 400 MXN

(highly recommended if you haven't dived in the last 12 months)
---
Casa Cenote
This is the perfect tour after a long time without diving or if you are a beginner and want to improuve your skills before cavern diving. We start with Casa Cenote called also Manatee, this cenote is the exit to the ocean of the cave system Sac Actun. The crystal clear freshwater flows between the mangroves and the ocean water. You can see a lot of life, both freshwater, and saltwater, like blue crabs, tarpons, young barracudas, snappers, snooks, and small flounders.
The combination of fresh and saltwater allows us to appreciate the halocline during our dive. For a second dive, we go to the cenote Dos Ojos to dive one of the most beautiful sites in the region. The visibility is amazing at Dos Ojos and this site has lots of rock formations and beautiful entries of light. Here you will dive through thousands of stalactites and stalagmites.
Dos ojos
"Dos Ojos" means "two eyes", and comes from the two circular-shaped cenotes that are located very close to each other. Dos Ojos Cenote is renowned for its stunning crystal-clear water and breathtaking formations. The cenote features a network of tunnels and caverns that have been formed over thousands of years, creating a unique underwater landscape.
During the dives, you'll have the opportunity to witness the beauty of Dos Ojos up close. The water clarity is exceptional, allowing you to see the intricate formations in all their glory. The limestone ceilings of the cenote are adorned with delicate stalactites, creating a mesmerizing sight.
---
Duration
6 hours
---
Includes
Two dives including tanks & weights
All equipment & light
Water and snacks
Small groups and personal service—maximum of 4 divers per guide
Transportation between the dive shop and the dive sites.
---
Important note
Level / Certification required: Open Water Diver

Maximum depth 10 meters / 33 feet.

All tours are subject to weather conditions.
entrance fee casa cenote 200 pesos Dos ojos 400 pesos (not included)
Ages 15+